You haven't lived until you've boarded a bus at sunset and trundled through the night to arrive at your destination just after sunrise. Those hot towels the attendant distributes with tongs at six a.m. make it worth the long hours, the bleariness, and the cheap comedies played on the television up front.
No, really. These were special trips.
Because there were two kinds of buses. You could take an orange bus—an "orange crush bus," as one of the missionaries called it. Any time we did opt for this probably inexpensive option, it was by day, thankfully, and for shorter trips. These were not air-conditioned. They were crowded, and the seating was not unlike that of a school bus in the US. I remember my mom buying us snacks and drinks we didn't usually have, my overindulgence making me sick on one of these trips. I'm sure I enhanced the travel experience for everyone around me.
Then there was the "night bus." Everyone knew what the night bus was. Maybe you've never heard of it, but when the sentence "I'm taking the night bus to Bangkok" was uttered, I assumed the whole world would recognize the transportation mode referenced. The night bus was in the class of vehicle we called "tour buses," distinguishing them from orange crush buses. These were impressive giants on wheels, at least to me, walled in on both sides with towering tinted windows and offering a long aisle with row after row of cushioned seats. And they were all air-conditioned. You could take the tour bus during the day, but we usually booked them for night journeys. Maybe travel was cheaper that way, or maybe we were always pressed for time and opted to sacrifice sleep for efficiency.
The prospect of going somewhere on a night bus was exciting. The destination itself was always packed with mystique and rich experiences. There was always the anticipation of seeing friends, going to department stores with rides, spending days by the beach, revisiting familiar guest houses with outstanding places to play—anything could happen. The night bus was no obstacle to these joys; it was part of them. We always got dressed up, and I packed the tiny green tote bag our friends had given me for my birthday. You never know what you might need on a trip like this. Then it was off to the part of town where these idling behemoths were parked along the street. We would wend our way through the people and pedicab drivers, go through the doorway, and climb the several steps (steps!—it was that high), until we were level with the driver and right under the TV that was invariably blaring a comedy show wherein there was always a big man dressed as a woman and characters getting hit on the head with a large metal pan.
Under the noisy dialogue and canned laughter, we'd go down the row and then settle in our soft seat, contemplating the trays in front—food would be coming. And although the TV wasn't serving up anything riveting yet, they would play a movie later. This was rarely family fare, but one never knew—maybe for once a Disney movie would come from that intriguing screen. From the huge windows we saw, milling down below us, people who weren't going anywhere special, and the sunset streaking the sky with color.
Then the bus would slowly pull away and lumber off. We would settle back, experiment with the levers that tilted our seats back a few inches, and pull our trays down. It wouldn't be long before the attendant would come by with a whole meal. It came in a little white cardboard box, if I'm remembering right, thin enough that sometimes a little round spot of grease would stain the outside, a mute promise of the satisfying contents I would find when I opened the box. And sure enough, tucked neatly inside, there would be a chicken drumstick, a muffin, and whatever else was fitting for night bus fare.
After our meal, the lights would go out and we were cocooned in darkness with the TV flickering up ahead. The grown-ups would rest their heads on the seat back and try to rest, like responsible adults. I'm not sure what we did as kids. We fidgeted and tried to watch the television. I remember a long conversation with a friend when I was a little older. But I'm sure we didn't have time for too much activity. I imagine it didn't take long for the humming engine and rocking ride to soothe us, dwarfed in the soft seat, to some kind of sleep.
That last sentence would have been a perfect ending to this essay. The best writing advice says that less is more, end it quickly before the reader loses interest. But the reality of the night bus experience prevents me from heeding this wisdom. A master planner somewhere decreed that it did not do to not allow passengers to slumber through the night and awaken blissfully at the destination. No, the ideal ride meant that around two a.m., the bus would stop, and bleary passengers would disembark, stumble into a small restaurant, and be served a hot meal consisting of bland rice porridge. Then it was back on board for several more hours in the dark.
After dawn—and for some, surely the night was very long—it seems like there were a series of loud announcements made through the speaker system. Then, the hot washcloths. I wasn't sure why they were necessary, but I gamely wiped my face with them, as others were doing. After that, children and items were gathered, and we'd make our way down the aisle and down the steps. After our long repose in the cool air, our senses weren't prepared for the humid early morning already streaming with traffic. We didn't mind, however, because then it was time to hail ourselves a tuk-tuk. But that's another story.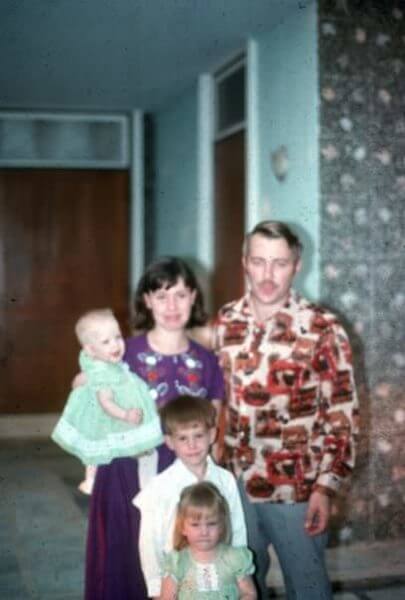 Our family in 1976, feeling fresh after an all-night bus ride from Nakhon Phanom to Bangkok. I'm the one in front. We're posing in front of the missionary guest house, where we found all sorts of interesting things to get into, once we'd had our naps. I'll have you know that my mom has already taken plenty of Facebook flack for my parents' outfits, a lot of it from my sister, who was an infant and obviously had no say in the matter.